Christopher Wiseman's
poetry, short fiction, reviews and critical writings have been published and broadcast extensively on both sides of the Atlantic. He has won two Province of Alberta Poetry Awards, the Poetry Prize from the Writers' Guild of Alberta, and an Alberta Achievement Award for Excellence in the literary arts. He lives in Calgary.
For his tenth collection,
36 Cornelian Avenue,
Christopher Wiseman returns to his wartime childhood in England and revisits the streets, shore, and woods that belonged to the resort town of Scarborough where, his father away fighting, he and his mother lived. Part novel, part memoir, part passionate recollection,
36 Cornelian Avenue
presents these townspeople, often in their own words
The following interview was conducted by e-mail.
Carmine Starnino
: There's lots of sex in
36 Cornelian Avenue
. Were you aware of this when writing the book?
Christopher Wiseman:
Very sharp observation. Open the book anywhere and you'll find steamy content: a boy and girl pulling down their underwear and touching each other intimately; the teenage ecstasies of two couples in a dark room in the attic of one girl who went on to run her own sexual lingerie store; people singing filthy songs about bums and testicles; the special silk panties worn by local women; the frantically consummated encounter on a front lawn by an air raid warden and a woman among exploding bullets. This could be one of the randiest Canadian poetry books since Irving Layton's
Lovers and Lesser Men
. Luckily there are a few minor distractions—like death, terror, destruction, hunger, and fear—to give the reader some relief from the overwhelming carnality which, in the words of one reader, kept her turning the pages far more quickly than she had anticipated (and says she badly wants a sequel).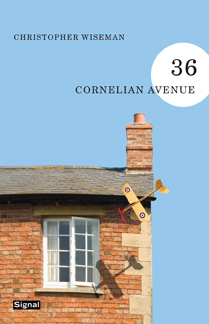 CS:
What is the most misunderstood aspect of your formalism?
CW:
Easy. That people insist on calling what I do "formalism." The most misunderstood aspect, in other words, is that in my ten full-length collections more poems are in free-verse than in form, and, although
36 Cornelian Avenue
has metrical and rhymed poems, it's written in a casual and quite conversational style as seemed to befit the childrens' experiences of the war and what happened. The greatest joy for me is the tension between a poem's formal structure and the colloquial language you can use inside that poem. This new book is the least formal of my last three books because it demanded to be and because there's so much sex in it.
CS:
There seems to be some settling of scores in
36 Cornelian
Avenue
. Is there a place in poetry for cursing as well as commemoration?
CW:
I have written poems from all kinds of emotional places—exhilaration, depression, gratitude—but never once, except in some very early political poems, out of a deep-seated anger. It's not the same as a curse, but when I looked back on my schooling during the second world war, I realized that I was getting very angry at the subject, the people, the circumstances I was writing about. I, and many others, because of the shortage of good teachers off to war, had to suffer deep humiliations, physical and emotional cruelties, which today would be called clear child-abuse and seen those teachers not only fired but
probably in court. I lived in genuine terror of school — I describe the horrors in "Lessons of War." It was my great joy, about 8 years ago, when I re-visited the old school building where I had often been beaten by the nuns with ebony rulers (I was a non-Catholic interloper and Catholics weren't beaten), and watched a Bobcat going in and out the front door, and the sound of demolition inside as they turned that place into flats. Teachers left scars far worse than Hitler's Luftwaffe on me, and, as I wrote, I genuinely felt a lifetime's load of anger start to dissipate. And other teachers, too, who bullied or under-rated me – I get some serious and some comic revenge, a settling of scores, which I didn't know ran quite that deeply inside me.
CS:
Can you give us a few lines from a new poem your working on?
CW:
Such palenesses together, different fabrics
Mingling in a subtle palette of pale –
Thin floaty skirt, dark white it looked to me,
Falling softly over pale stockings
Of not quite the same colour – pale beige? –
Or, I was certain, feel, and the light behind you
Clearly showed, as you looked around for your wrap,
That your panties were white, or pale, not showing
Through the skirt, and then there was, memory,
The sweet white of your thigh above the stocking's
Slightly darker top, which I had a three
Second glimpse of as I held the car door
And your legs followed the skirt as you settled in,
And your pale shoes, such high-heeled elegance.
(Sexy metrics – sextrics?)